Testimonials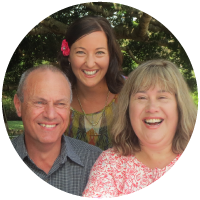 My husband Chris and I had a vow renewal ceremony with Felicity today. It was such a beautiful ceremony. Felicity was so professional in all her dealings with us. The thought that was put into the ceremony content was beautiful, it brought me to tears. We will definitely use Felicity for another vow renewal in the future.

Debbie McShane – Vow Renewal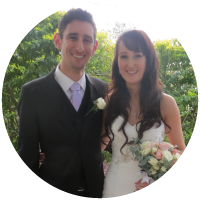 Felicity, thank you so much for yesterday. You have been amazing throughout this entire process and so easy to talk to and work with. We absolutely loved having you as our celebrant. Love Beth and Luke.
Beth De Laurence – Bride
So organised, professional and efficient whilst also being a lot of fun and so relaxed. A great calming influence to have around on the big day!
Book her now!

Luke De Laurence – Groom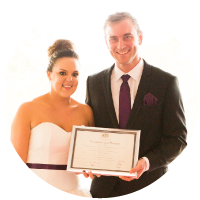 Felicity you were absolutely amazing! Thank you for making our wedding ceremony so personalised and perfect.

Beth Morrison – Bride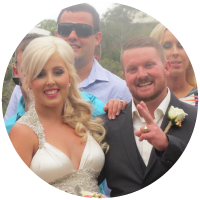 We were the third couple to book Felicity 12 months ago. I was searching for the "perfect celebrant" who had a bubbly personality & as soon as we met with Felicity we knew she was the person we wanted to marry us. She listened to exactly what we wanted & made sure everything was perfect. I could not thank Felicity enough for everything she did for us. We have recommended her to every one of our engaged friends!

Katie M. – Bride
12 Sep 2014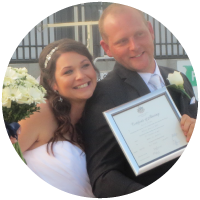 Felicity was absolutely amazing and by far the highlight of our wedding day. She understood we wanted a relaxed atmosphere for our celebration but still created a personal and unique ceremony that fit our relationship perfectly. We didn't really value the importance of the words spoken throughout the ceremony until we read Felicity's first draft for us; I shed a tear of two reading it for the first time and was amazed at how much of 'us' she was able to capture. Felicity went above and beyond our expectations looking after the groom and best man before the ceremony, setting up everything for the ceremony, organising our guests, helping out post ceremony, leaving us a sweet unexpected gift and following up with us post wedding day. Felicity is down to Earth and really goes the extra mile to make the day special (even when the lead up stress gets overwhelming!) I would highly recommend Felicity to all friends and family (even though they saw it for themselves and were 'wowed').
Jannah H. Bride
30 Aug 2014
Felicity, congratulations on a beautiful ceremony yesterday for Jannah and Troy. All the personalised touches you gave the ceremony were above and beyond what I have ever seen before, any bride and groom would be delighted to have you involved in their ceremony.

Kelly Vincent
31 August 2014

Felicity was the best Celebrant we could have asked for. She went above and beyond to tailor the ceremony to what we wanted and really worked hard to create a ceremony which reflected us both. She was easy going and made the whole process straight forward and stress free.

Leanne F. Bride
14 Jun 2014

Dan and I would like to say a big thank you for helping make our wedding day so special. You were the first Celebrant that we met with and immediately after our initial consultation we knew that we didn't want to look any further. We loved that you got to know us before the day and took the time to give us a ceremony that was individual and personal to us. We loved your fun and modern style, your organization, and your attention to detail. Your help and ideas for the readings and vows were greatly appreciated. And thank you for your assistance in calming the groom's nerves at the alter! Giving us a formal copy of the wedding ceremony at the end was a great touch and is something we will keep and look back on in the future. Thanks again, Dan and Ange xo

Angela and Dan – Bride and Groom

Loving your ethos, passion and professionalism.

Sara Freeman – Director at Me & My

Felicity is just amazing she is highly professional but so warm and caring! Thank you Felicity for making my son Cody's naming day perfect.

Kate White – Mum